Biography: Vernon J. Geberth

Vernon J. Geberth is a retired Lieutenant-Commander of the New York City Police Department with over 40 years of law enforcement experience. He retired as the Commanding Officer of the Bronx Homicide Task Force, which handled over 400 murder investigations a year.

During his career he was a Detective, a Precinct Detective Squad Commander, Temporary Commander of the 7th Homicide Zone in the South Bronx and Commander of Bronx Homicide. He has personally investigated, supervised, assessed and consulted on over eight thousand death investigations.

Commander Geberth has been the recipient of more than 60 awards for bravery and exceptional police work and is a member of the Honor Legion of the City of New York Police Department. Commander Geberth has a Master's Degree of Professional Studies (M.P.S.) C.W. Post College, Long Island University and a second Master's of Science Degree in Psychology (M.S.), California Coast University, Santa Ana, California. He earned his Bachelor of Business Administration (B.B.A.) at Iona College in New Rochelle, New York and he is also a graduate of the FBI National Academy in Quantico, Virginia 119th Session, (1979). Commander Geberth is a Fellow of the American Academy of Forensic Sciences (AAFS).



Mr. Geberth is a Charter member of the International Homicide Investigator's Association and serves as a Certification Board Member for the United States Association of Professional Investigators, Washington, D.C. Commander Geberth has served on the New York State Governor's Commission on Domestic Violence Fatalities and is a Charter member of the Pennsylvania Homicide Investigator's Association, a Charter member of the Washington Violent Crimes Investigator's Association and a Life Member of the Indiana Homicide and Violent Crime Investigator's Association.

Mr. Geberth has served as an Adjunct Professor of Criminal Justice at both Mercy College, Dobbs Ferry, New York and John Jay College of Criminal Justice in New York City. He was affiliated with the University of Delaware's Continuing Education Program, as an Associate Professor and was a member of the Faculty of Northwestern University Traffic Institute as a Homicide Instructor. Commander Geberth also served as a Homicide Instructor for The New York City Housing Police, The New York City Transit and the Police Training Division of the New York Office of the FBI. He continues to serve as Special Guest Lecturer for the New York City Police Department's Detective Bureau's Homicide School, The Missouri State Highway Patrol, The Delaware State Police, The New Jersey State Police Homicide School and the New York State Police Colonel Henry F. Williams Homicide seminar. Vernon Geberth has been a world-renowned homicide instructor for over 30 years across the United States and Canada.

In addition, Commander Geberth has appeared in numerous local, national and international television programs answering questions on the subject of murder, and providing insight, analysis and commentary with respect to all aspects of homicide and death investigations. Geberth has been referenced as a media consultant on a myriad of national major cases across the United States and Canada.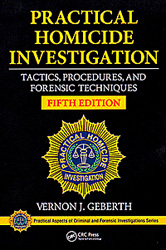 Vernon J. Geberth is the author of the new and completely revised, PRACTICAL HOMICIDE INVESTIGATION: Tactics, Procedures, and Forensic Techniques. FIFTH EDITION (2015 CRC PRESS, LLC, Boca Raton, Florida). PRACTICAL HOMICIDE INVESTIGATION® is recognized in the law enforcement field as "The Bible of Homicide Investigation".



He is also the author of the nationally renowned textbook, Sex-Related Homicide and Death Investigation: Practical and Clinical Perspectives, Second Edition (2010 CRC PRESS, LLC, Boca Raton, Florida) which provides a frame of reference to address the proliferation of sex-related homicides and the clinical siginificance of psychopathic sexual sadism as it relates to the investigative process.



All of his previous textbooks have received international acclaim and the newly revised PRACTICAL HOMICIDE INVESTIGATION Checklist and Field Guide Second Edition CRC Press, 2013 is considered by professionals as an essential prerequisite in conducting proficient death inquiries.
Geberth is also the co-author with Amy Suvageau of an internationallu renowned textbook, Autoerotic Death: PRactical, Forensic and Investigation Perspectice, CRC Press, LLC, Boca Raton, Florida 2013.


Commander Geberth has published extensively on topics relating to criminal investigation and forensic techniques and applied criminal psychology. Commander Geberth was a contributing author for The Encyclopedia of Law Enforcement, The Criminal and Civil Investigations Handbook and the Encyclopedia of Police Science. He has and continues to be a contributing author for Law and Order Magazine. His comprehensive study of serial killers in the United States, which he co-authored with a forensic psychiatrist, was published in the Journal of Forensic Sciences in January 1997 and his published works are cited in numerous professional publications throughout the United States, Canada and Europe.
Vernon Geberth created and serves as the Series Editor of PRACTICAL ASPECTS OF CRIMINAL AND FORENSIC INVESTIGATIONS for CRC Press, LLC a Division of The Taylor & Francis Group in Boca Raton, Florida and has proposed and edited over forty publications within this series. He also serves as the Series Editor of PRACTICAL ASPECTS OF CRIMINAL AND FORENSIC INVESTIGATIONS for CRC PRESS.
Commander Geberth is President of P.H.I. Investigative Consultants, Inc., a New York based corporation which provides state-of-the-art instruction as well as consultation in homicide and forensic case investigations for a number of law enforcement agencies throughout the United States and Canada. Over 75,000 members from over 8,000 law enforcement agencies have attended Geberth's PRACTICAL HOMICIDE INVESTIGATION® seminars.

Geberth is a nationally renowned lecturer, author, educator, consultant and expert witness on the subject of death investigations.